For Parents


General Resources:
Military Resources:
Safety & Security
Anyone entering the school would have to know a 4 digit code to enter the main door to get into the lobby. Once there he or she would have to enter another code and use their fingerprint on our bio-metric fingerprint reader to access our state of the art childcare system to check their child in or out. Once they are logged in, that will open up a second door allowing the parent access to the classrooms in the school.
We also have a closed circuit video monitoring system throughout the school that helps us keep a close eye on all the children and our staff.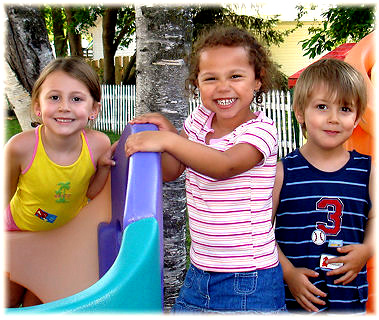 The Nursery and Crawler rooms have an electronic Air Purifier that runs 24 hours a day. This HEPA filtration system removes the dust, pollen, viruses, bacteria, odors, and other particles that float through the air.
The Center is equipped with smoke detectors, fire extinguishers, emergency lighting and a fire alarm system. We also perform a fire drill every month and tornado drills.
Each classroom has its own drinking fountains, lavatories and age sized commodes.
We have teachers that are CPR certified at the school at all times.